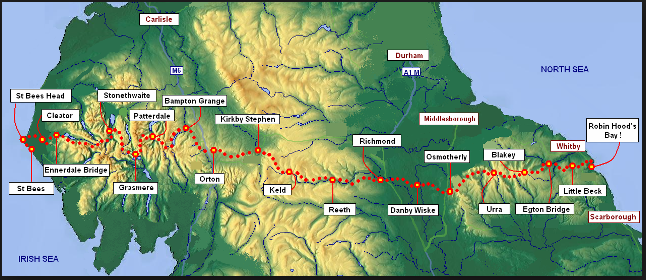 A Famous Long Walk
When I decided I was going to take a long walk, I naturally first thought of my second homeland of Switzerland. I planned to walk from the eastern border to the western border, across the mountains.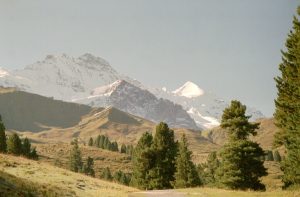 It was going to take about 45 days. However, as I described elsewhere, a series of tidal waves then slammed into my life – job loss, leukemia, divorce and an international move. While my recovery from leukemia has so far gone as well as could be hoped, I was maybe too optimistic about the speed of my full rehabilitation. Weakness and fatigue lasted longer than I thought they would, and I am still building back muscles that had completely vanished through nearly 9 months on my back. My trans-Switzerland walk is still on the drawing board, but something else had to come first.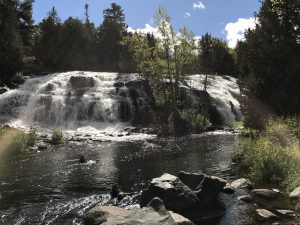 I recall exactly when and how I came across the "Coast to Coast Walk" in England. I had lived four years in London as a banker, and also spent four summers there as a graduate student many years before, working as an assistant director on a summer English program hosted by the University of Michigan. During the rest of each year, between these London summers, I had a research grant to study a German playwright named Frank Wedekind in Munich, Germany – West Germany, at the time. I had received an M.A. in literature before deciding, during my time in Munich, to take a dramatic turn and complete an M.B.A., which I did later at Columbia University in New York City. In short, I know England fairly well from the years I spent there, and I came very soon to love especially the English countryside. England was a natural place for me to look for an alternative first walk.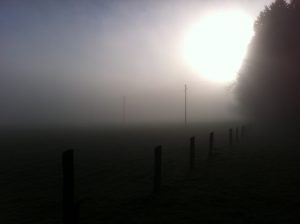 To replace my Swiss walk, I investigated first whether some walk would follow along Hadrian's Wall in North England. Hadrian's Wall was once, for nearly 300 years, the north-west frontier of the Roman Empire, built by the Roman army on the orders of the emperor Hadrian following his visit to Britain in AD 122. Remnants of this Roman wall are still visible in many places, and that attracted me to consider walking along it. I hoped that a walk along the route of the wall would also take me completely across England, just as my Swiss walk was going to take me across all of Switzerland. To be certain that this new walk would traverse England entirely, I typed the words "coast to coast walk" into an internet search machine. The Hadrian Wall walk did not show up among the first hits, but rather another walk popped up on top of the search results – this walk was actually called the "Coast-to-Coast Walk", or, as often shortened, the "C2C". I read about it, and decided that the C2C was the new walk!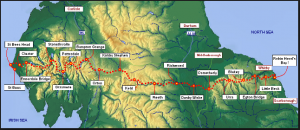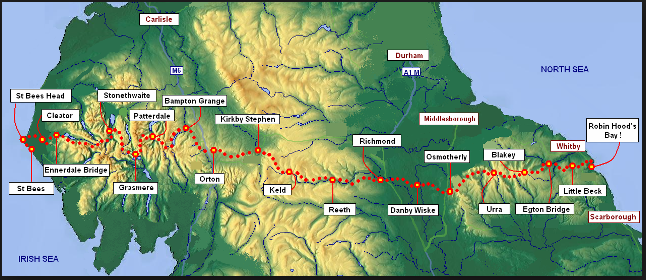 The map to the side (and at the top of this page) shows the Coast to Coast Walk, which I will referred to as the C2C – its walkers are "C2C-ers." The map is courtesy of Good Walking Books (www.goodwalkingbooks.com), which I am pleased to acknowledge here, because it looks like a very good website for hiking information and inspiration.
Anyway, the C2C is 192 miles long. Two-thirds of it fall within three national parks in England – the Lake District, the Yorkshire Dales and the North York Moors. The place names on the map, above, are way-points of the walk, but not all of them are our overnights. We have planned Bed & Breakfasts stops in the following towns:
St. Bees (On the Irish Sea – 2 nights before starting, to shake jet-lag!)
Ennerdale Bridge
Borrowdale (also, the rainiest spot in England!)
Grasmere
Patterdale
Shap
Kirkby Stephen (2 nights, to have a day off, after the hills of the Lake District)
Keld
Reeth
Richmond
Danby Wiske
Osmotherley (consisting of a further 2 villages, Ingleby Cross and Ingleby Arncliffe)
Clay Bank Top
Blakely Ridge
Grosmont
Robin Hood's Bay (On the North Sea, and – if still fit – we may walk north to Whitby the next day)
The C2C is the most famous "non-official" national trail in the UK (there are 15 official ones). It was knitted together by one of England's most famous "fell-walkers", Alfred Wainwright (1907-1991). The walk's more-or-less final route was laid out in 1973, when Wainwright published the first edition of "A Coast to Coast Walk". It connects various paths, public rights of way, and even – I understand – a couple of stretches, where you are technically trespassing, though the land owners have, over the years, graciously tolerated C2C through-walkers.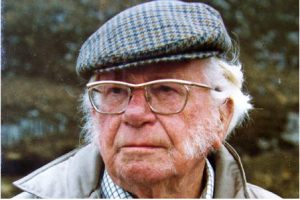 I am extra happy to be taking this particular walk, because Alfred Wainwright, himself, appeared to be one of those gruff, curmudgeonly eccentrics that England so masterfully produces. I have an updated guidebook on the walk, but I also bought the original book, hand-written and illustrated by Mr. Wainwright! It is meticulously described and humorous throughout. After creating the walk, Wainwright became a reluctant celebrity with a 3-part BBC series about his fell-walking.
Part of Alfred Wainwright's gruffness was – I have read – due to shyness. He loved animals, but was not keen on people. A July 1, 2005, article in the UK's "Independent" newspaper reported that, "Once, when sales of his books were about to pass the million mark, his publishers persuaded him to agree to have dinner with the purchaser of the millionth copy; he [Wainwright] then lost his nerve and made a 100-mile round trip to buy the specially marked copy himself." – Really, you have to admire that!
Wainwright had his ashes scattered on the Haystacks, a hill in England's Lake District, located at the south-eastern end of the Buttermere Valley and directly on the C2C path, i.e. if you take a high-route alternative on one day of the walk. He wrote, after declaring his wish to be scattered about there, "If you … should get a bit of grit in your boot as you are crossing Haystacks in the years to come, please treat it with respect. It may be me."
I have hiked and traveled by myself, alone, frequently over my life, mostly with intention. However, when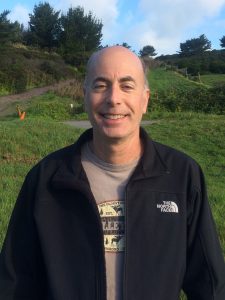 I wrote my friend Joel in California that I was going to take this walk, he wrote me and offered, if I wouldn't mind, to walk the first half of the route with me. For many reasons, I didn't mind Joel joining me at all, and, in fact, I immediately set about talking him into taking the whole walk with me. I knew he is a busy guy, but I wrote him and argued that there could be little satisfaction in walking the Coast-to-Coast Walk, when you only end up walking instead a Coast-to-Somewhere-in-the-Middle Walk. There is also a tradition that you pick up a pebble from the beach at St. Bee's on the Irish Sea and you drop it into the North Sea at Robin Hood's Bay, after making the full walk. What was he going to do with his pebble, after only half way? Joel agreed that a Coast-to-Coast Walk only made sense if you walked it coast to coast.
Joel and I have been great friends for decades, and, so, when he agreed to the whole thing, the walk just got so much better for me! (Man, I hope we don't get sick of each other en-route.)
What might have, in the end, also convinced Joel is that he and I hitch-hiked our way up England, from London to Edinburgh, directly past Robin Hood's Bay – the end point of the C2C – almost 4 decades ago! At that time, Alfred Wainwright was still alive and walking the fells. If we would have recognized him back then, and seen him walking through the moorlands there, I have read that we could have called out a hearty greeting to him, and he would have turned around and pretended to take a leak rather than greet us back. You have to admire someone like that!