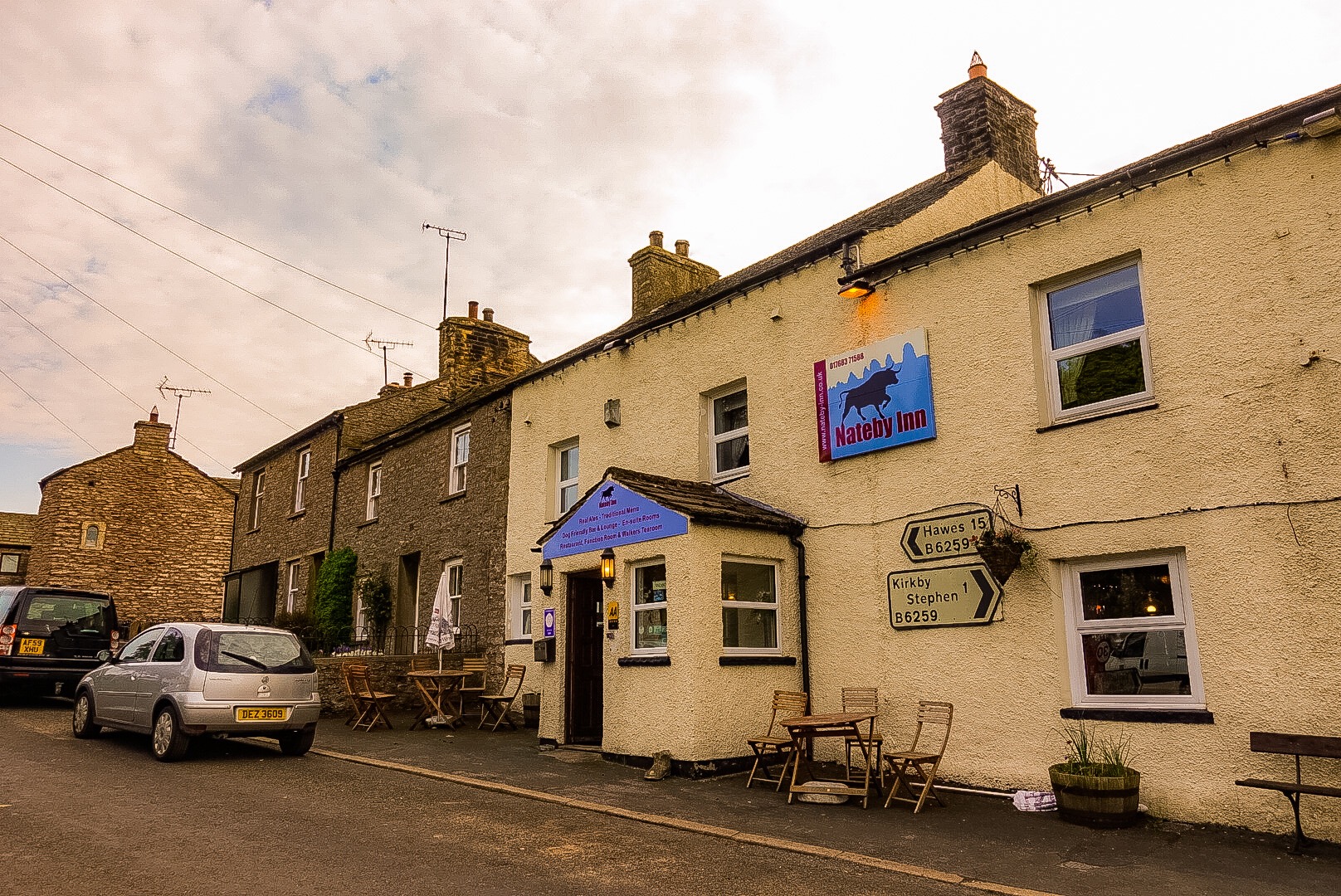 Joel reports…
Notes from the Anti-Katz
When Bill Bryson decided to walk the entire Appalachian Trail, which he then wrote about in A Walk in the Woods, he needed a walking companion.  The only one stupid enough to take him up on the offer was an old, long-lost friend named Stephen Katz.
Bryson hadn't seen Katz for many years, and Katz turned out to be a disheveled alcoholic who huffed and puffed his way begrudgingly along the trail.
In my case I'm not an alcoholic (a doctor once told me to drink more), and I've hiked for decades, including seven times to the top of Half Dome from Yosemite Valley, a long, grueling day to a place that's worth the effort.
So I'm ahead of Stephen Katz in terms of conditioning. Disheveled, maybe. But no, I'm the anti-Katz.
In any event, I view my primary job as making sure we actually get across England, as Jeff says, in an uninterrupted line.
So far, so good.  We have some aches and pains, but we've made it over the difficult peaks and down the rockfalls of the challenging, but beautiful, Lake District.  After a 20 mile day yesterday, we are enjoying a much- deserved day of rest.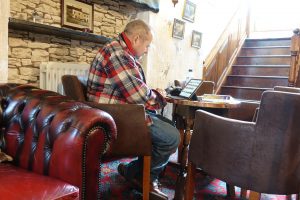 Our typical day begins with an early wake up, and then teeth brushing and, for me, putting in my contacts.  Then it's on to foot preparation. In my case I cut pieces of moleskin and attach to the bottom of each big toe.  Then a bandage over one nail and I wrap both big toes with tape.  Finally I carefully, so as not to wreck all this handiwork, pull on a pair of Smartwool socks.
Then I fill up my 2.5 liter hydration reservoir and wiggle it into a compartment in my pack. I put must-have items like contact lens stuff and emergency eyeglasses into the pack, along with fleece, rain jacket, and a couple of extra water bottles.
Next I apply lots and lots of sunscreen, as the 16-hour sun is very strong here right now and everything exposed burns.
Then we have a fairly quick breakfast, where we might talk to fellow walkers and look over that day's route.  Afterward we stuff a B&B-bought boxed lunch into our packs, as space permits. On go hiking boots and gaiters (essential for the boggy turf here), and off we go.
We have several tools for navigating our way over hill and dale and summit, and we use them all.  The trails are often hard to find, sometimes nothing more than a vaguely tamped-down strip of grass or a line of muddy footprints.  Sometimes there is no obvious trail at all.  Trail signage is poor; at least two signs have pointed in the wrong direction.  We've added a few miles due to mistakes, and my job is to keep wrong turns to a minimum.
So I have the GAIA GPS app on my iPhone, which back in San Francisco I preloaded with trail maps of England and all the GPS waypoints of the Coast-to-Coast route.  This gives us a tracklog (route line) across England.  For the most part we just have to follow the yellow-brick road (i.e., tracklog line).
But there are times where the GPS tracklog is not quite right, or maybe we're in a node between GPS satellites, or the satellites are drinking, and then it becomes more useful to pull out my 78-page trail map.  In that case I become fairly useless and it is more likely that Jeff can correlate our location to a point on the map.
Sometimes we use our little guidebook, which has hand drawn maps with little sketches and directions like, "At boggy saddle turn east and climb path marked by cairns to a stile in the fence."
Finally, each day (knock on wood) we arrive at our destination, battered, bruised, tired, and thirsty.  If possible, we first check into that night's B&B, take showers,  and change into our finest evening attire.  Then we head to the pub for drinks and dinner.
After dinner I go to bed; I'm asleep in moments.  Jeff sits up a while longer — sometimes a long while — writing that day's blog entry.  And that is how each day goes.
We're almost halfway across England!  Here are some stats which I've gleaned from the GAIA GPS app, which has faithfully been recording our walks:
After 7 days of walking:
Total distance walked = 91.64 miles
Total ascent = 15947 feet
Total descent = 15070 feet
The ascents are hard, but the descents are slow, tricky, and difficult, especially in the Lake District where we had to navigate down loose, slippery boulders, rocks, and scree.
We're doing it!
Greetings from Nateby, England.
Joel (the anti-Stephen Katz)