I was thinking. If I titled this blog post simply "Mobile Blogging", who would even open it up?
'Lazy Mountain' is a mountain in Alaska, which I summited with my buddy Tim – pretty recently, I think, just 10 or 15 years ago, maybe longer.
And, as for mobile blogging, that, of course, is my problem to sort out, not yours.  But, it is the heart of travel blogging, and I need to master it – like really quickly master it, like before I hit the trail master it, which is coming up, like, really soon. 'Up Lazy Mountain', then, I admit, may have been a ruse to get you to read at least to this point. Though, don't sign off yet – I need you still! Besides, there are still painted wild flowers, plus my friend Roman's ancient farmhouse in Ticino, Switzerland, coming below – and I can work out the kinks of 'blogging on the go' while you look at my nature paintings.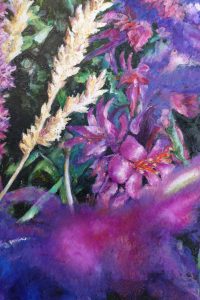 Those of you living in this part of the world may have been suffering along with me, but Michigan has had a winter storm warning for three straight weeks running, and is getting pummeled relentlessly with snow and hail and sleet! It has thrown me off my fitness schedule (though, I confess, I do have a fitness club I could go to and a fitness coach, who may even be reading this with disapproval – and since he is a former NFL and college football player, I don't like getting him upset with me). The winter weather has driven me to indoor activities, so I opened up my boxes of pastels and started painting, plus drinking a lot of coffee and wine, depending on time of day. I should be outside walking or at the fitness studio, but, hey, I still have 3 whole weeks until my flight, and the weather forecast is looking up. I will be fit on time – pretty sure, anyway.
I am going to show photos of three of my paintings, which I have in progress right now, all of nature, to keep with one theme of my walking blog – nature.  Now, in order to get these photos plus text onto this blog post, I will have gone through all of the steps for 'blogging on the go'. I took these photos just today with my new tiny super-intricate compact camera that I don't quite comprehend at all.  I will transfer these photos, via my camera's portable Wi-Fi hotspot, onto my iPad, and from there I will write and then publish a post to 'A Long Walk' – www.a-long-walk.com (make sure you book-mark it under your "Favorites"!). I have confidence in succeeding here, because, I figure, if you are reading this right now and you see pictures, then I will have been successful. If you are not seeing this, then you would not know if I was successful or not, because you would not even know if I tried or not.  In fact, there is no way that I can blow this and have anyone find out. You might only start suspecting something, if you never hear from me again.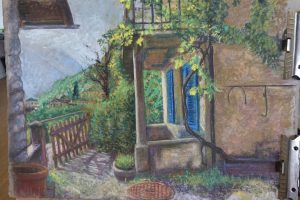 Back to my paintings – last summer, my good friend Roman invited me to his old farmhouse in Ticino, Switzerland. It is the Italian part of Switzerland, with beautiful mountains and valleys and ancient villages – and good food and wine!  I took a photo from the courtyard of his farmhouse overlooking Valle Maggia. I was sitting at a table outside with a nice glass of Ticino Merlot red wine, with his 200 year-old farmhouse on my right and his even more ancient, at least 500-year old, Rustica on my left. I felt great, and remember the scene serenely. So, I started a pastel from that photo, too. I have a lot of finishing up to do on the pastels. However, I may just leave the oil as is. You can fumigate yourself by oil painting inside, so I will wait until summer when I can ventilate better.
Okay, I will now try to publish this. It was actually much harder to do on an iPad versus my computer than I had hoped, but an iPad is the only way to go while on the trail.  Let's see how this looks.  I have no clue, and will see it for the first time when you all do – it looks a little scrunched up on my iPad screen.  For those of you who have signed up on my site, thank you!  You should all receive an email alert when this gets "published." I am going to push the button NOW.  That's it, here it goes!